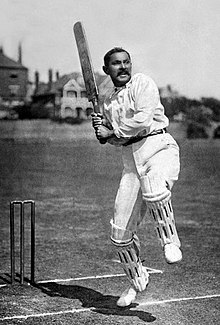 Ranjit Singh Quick General Knowledge
| | |
| --- | --- |
| Name | Ranjit Singh (रणजीत सिंह) |
| Nickname | Sir Ranjitsinhji Vibhaji Jadeja / Ranji, Smith |
| Date of Birth | 10 September 1872 |
| Birth Place | Nawanagar, Gujarat (India) |
| Date of death | 02 April 1933 |
| Father Name | Jiwansinhji Vibhaji II |
| Achievement | 1896 – First Indian player to play test match |
| Profession / Country | male / Ruler / India |
Who was Ranjit Singh (रणजीत सिंह)?
Ranjit Singh was the first Indian player to play Test match cricket. His full name was Kumar Ranjit Singh ". He started his cricket game from England. To honor him, India's first-class cricket tournament is named after him 'Ranji Trophy'. He is an outstanding cricketer. And there were batsmen who played an important role in the development of Indian cricket. He is counted among the best batsmen of all time. Neville Kardus also called him "The Midsummer Night's Dream of Cricket". With his batting, he revolutionized the game by giving cricket a new style.
Ranjit Singh Birth Info
Ranjit Singh was born on 10 September 1872 in Nawanagar, Gujarat, into a wealthy family.
Ranjit Singh Death Info
Ranjit Singh died on 2 April 1933 due to a cardiac arrest.
Ranjit Singh Education
Even though Ranjitsinhji was not the successor, Vibhaji increased his financial allowance, but gave the responsibility of his education to the Bombay Presidency. With his fees coming from allowances, Ranjitsinhji continued his education at Rajkumar College. Although the status of his material remained unchanged, observations made by the college principal Chester McNaguten at the time suggest that Ranjitsinhji was deeply disappointed by his disinvestment. The college was organized and operated like an English public school and Ranjitsinhji began to excel. First introduced to cricket at the age of 10 or 11, in 1883 Rajit Singhji represented the school for the first time and in 1884 he was appointed as the captain.
Ranjit Singh Career Life
Ranji is widely regarded as one of the greatest batsmen. Neville Kardus described him as "Midsummer Night of Dream of Cricket". With unconventional and rapid responses in technique, he brought a new style to revolutionize batting and sports. At first, the batsmen generally carried on; Ranji took advantage of the improvement in the quality of pitches in his era and played more on the hind legs, both in defense and attack. He is particularly associated with the one-shot, leg peep, which he invented or popularized. The first-class cricket tournament in India, the Ranji Trophy, was named in his honor and inaugurated in 1935 by Maharaja Bhupinder Singh of Patiala. His nephew Dalip Singhji, playing first-class cricket in England and following the path of Ranji for the England cricket team. Away from cricket, Ranji became Maharaja Jam Saheb of Nawanagar in 1907. He was later Chancellor of the Indian Chamber of Princes, and represented India in the League of Nations. His official titles were Colonel HH Sri Sir Ranjitsinhji Vibhavji II, Jam Saheb of Navinagar, GCSI, GBE. Bateman's work on cricket and the British Empire identified Ranjitsinhji as an important figure in helping to create "royal harmony", noting that he had "great cultural influence". This was a marked change from the racism that Ranji faced early in his career, which he tried to overcome by techniques such as adopting the pseudonym "Smith".
Awards and Honors of Ranjit Singh
After his death, the Board of Control for Cricket in India (BCCI) introduced the Ranji Trophy in 1934, with the first match in 1934–35. The trophy was donated by Maharaja Bhupinder Singh of Patiala, who also inaugurated it. Today it remains a domestic first-class cricket championship played between different cities and states in India. Due to his legacy on the cricket field, he was one of the best cricketers in Indian history and India. One of the biggest and finest domestic cricket test match league, Ranji Trophy is named by him. And he was also one of the best batsmen to play for Sussex Cricket Club.
Thanks for reading...